Blogging on a Monday night? What is this world coming to?
During my very limited downtime from teaching, I have taken a liking to watching YouTube videos. One of the very popular video series is a "monthly favorites" review. I have decided to bridge the gap and bring the monthly favorites party to the teaching blogosphere.
The concept of the linky party is very simple. At the end of the month, reflect upon your favorite school and home favorites that you couldn't live without. Link up using the monthly graphic provided and share your favorites with others. I know that without my teacher friends I would never have gained an unhealthy and slightly stalkerish obsession with the Target Dollar Spot! Thanks ladies and gents!
Here are my September favorites: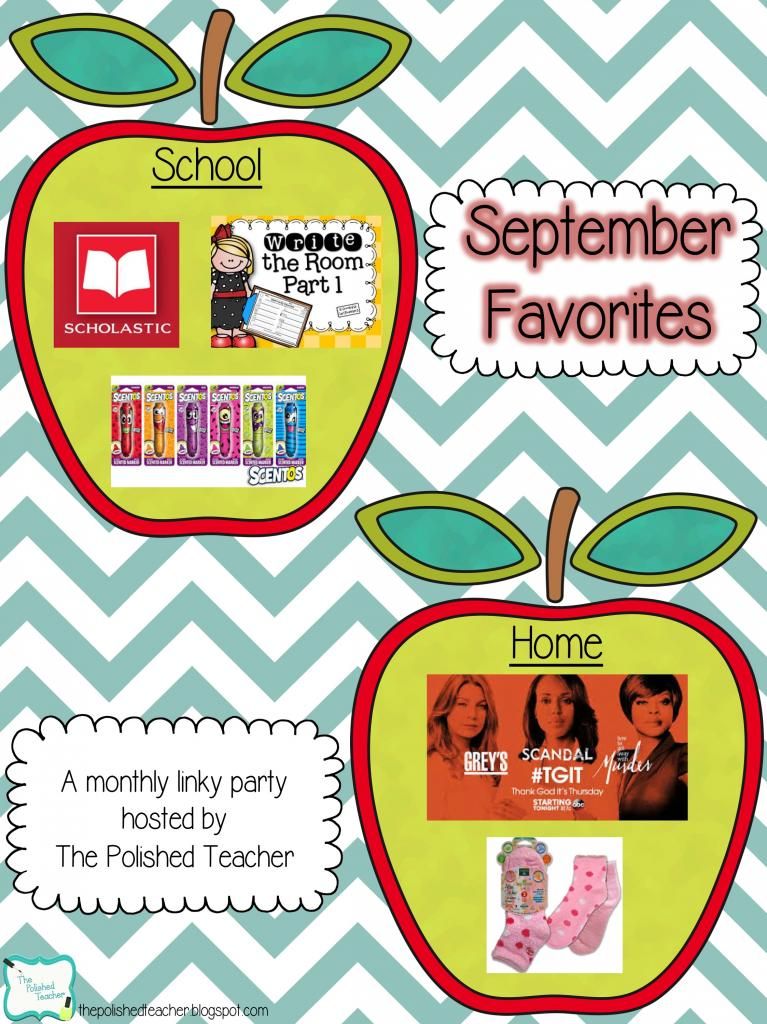 School Favorites
Scholastic
is so near and dear to my heart! I could not wait to get the book club up and running in my classroom. When I saw the amazing bonus deals for September I could not wait to hit the ground running! We ended up crushing our $300 goal with less than half of the class ordering! I seriously have the most amazing parents! If you haven't started a book club in your classroom what are you waiting for?
I will be the first to admit, I was a bit skeptical of the write the room idea. Giving children access to roam around the classroom in groups seemed like releasing the floodgates. However, after testing it out in my classroom, I couldn't have been more wrong! Instead of children roaming the room aimlessly, they are 10,000 times more engaged! They are learning to collaborate, be self-sufficient and have fun while learning so much! My kinders have been obsessed with Lori's
Write the Room
pack. Like we literally have to have this as a center option every day or they will big time pout! If you are looking for a new center activity, Lori's product is where it is at!
This one I can 100% blame on my fellow blogger buddies! We are lovers of all things
Scentos
in kindergarten! From anchor charts, to correcting papers, to art projects, we cannot get enough! They don't just have markers though! Oh no, they have glitter glue, stamps, and highlighters! I think every child has gone home with 12 dots on his or her nose from smelling the markers since school started! Who can blame them! Those Scentos makers sure know how to make the most amazingly accurate scents! You better hop on this "scent"-sational product train ASAP!
Home Favorites
As a first year teacher, pretty much everything in my life is school related. I do however have a couple of home favorites this month.
My ultimate September favorite was the premiere of #TGIT on ABC. Grey's Anatomy, Scandal and How To Get Away With Murder? Could television get any better? I think not! This is the one night a week I will stay up past my "teacher bedtime". Have you tuned in? What were your thoughts? I have been a fan of the two others, but I think Shonda has got a big hit on her hands with How To Get Away With Murder! It was so intriguing!
While curled up on the couch watching #TGIT, I am wearing my second favorite item. Standing up on your feet for 8 hours a day quickly takes a toll on your body. I just love coming home and putting on my fuzzy aloe infused socks to rejuvenate. It makes the endless laminating and cutting a lot more
manageable!
So there you have it, my September favorites in a nutshell. Hopefully I inspired you with a couple new item or two. I can't wait to see what you have to offer up as your favorites!
Here is the template for the September favorites:
Just edit the template with your favorites and put it in your blog post. Come back here and link up with your blog post. After that, check out some of the other link to find new favorites that might change your teaching for the better! Enjoy!