Happy Easter! Hope you had a fabulous day celebrating! I know I did! I'll be back tomorrow with a recap of all the fun!
In other news, only 4 more followers until my blog hits 400 and celebrates with a giveaway!
Here's a sneak peek at some of the generous donors!
Mrs. Albanese's Kindergarten Class
Teacher Idea Factory
Little Red's Schoolhouse
Teeny Tiny Teacher
T.G.I.F
Tunstall's Teaching Tidbits
Dots of Fun
School Supply Addict
If you are interested in donating a prize send me an e-mail or comment below with your e-mail address and I'd love to have you!
This weekly linky party is wonderful because we really start to get to know each other a little bit more.
This week's theme is a Favorites Survey! Now this one I can definitely do! I sure have a lot of favorites that it is impossible to narrow it down to only one for each!
Here are the categories:
1. Favorite place to shop
2. Favorite TV show
3. Favorite sweet treat
4. Favorite food
5. Favorite restaurant
1. Favorite place to shop
Ahhh shopping! I live to shop! Retail therapy is the best therapy there is!
My absolute favorite place to shop hands down is Target!
I know who would have ever guessed Target would be my favorite place to shop? I mean I only have written a
post
each weekend with my shopping roundup from there. Dollar spot heaven!
However, when it comes to shopping for clothes, Old Navy is where it's at!
Love their fun colors and prints! Plus their clearance sales are amazing!
2. Favorite TV show
When you ask a girl who has a DVR that is 90% full at all times to pick a favorite TV show it's basically impossible! I will name a few that I am particularly fond of.
Reality/Comedy - Total Blackout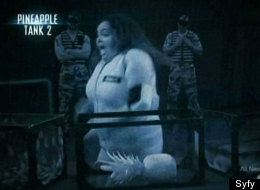 If you are ever having a bad day, turn on Total Blackout and be prepared to laugh until you cry. The image above depicts a woman freaking out after touching a pineapple. The challenges they have to do are priceless! Funniest show ever!
Drama - Pretty Little Liars
LOVE this show! It's so intense and I love the mystery of it. Every episode leaves you in a cliff hanger! I can't stand the wait until it comes back on this summer!
Singing/Competition - The Voice
I am really enjoying The Voice this season. I love the fact that the coaches don't get to see the singers before picking them for a team. I also love the close mentoring relationship they form with their team. I really like the new judges this season and can't wait to see what they have in store for us!
3. Favorite sweet treat
That's a tricky one! I have such a sweet tooth for candy in particular!
My favorite candy is a tie between Swedish Fish and Wild Berry Skittles! Yum!
4. Favorite food
I wish I could cook well. If I didn't want to be a teacher and I had the extra cash I would go to culinary school and pastry school.
My favorite food to eat out is fried rice. I love Chinese food! It's to die for!
My favorite home made dish is teriyaki chicken wings. So simple yet so delicious! I could eat them every day!
5. Favorite restaurant
Red Robin...Yum!
I love their burgers and bottomless fries! So delicious! Plus I love the fact that every restaurant you visit has a different decor inside. If you haven't been I highly recommend going!
Well that's it! I tend to be long winded and this post definitely proved to live up to that! Hope you learned a little bit more about me! Hurry on over and link up! This is a fun one!