These Five for Friday linky parties are becoming less and less enticing as the weeks have progressed. This is my last Five for Friday post of summer vacation. It's back to school time. Say it isn't so! Next week starts professional development for me. I am nervous yet excited. But truthfully, I could take another 8 weeks of summer. Who's with me?
I haven't yet discovered the pause vacation button so time unfortunately continues to progress onward. I have no choice but to admit that it is indeed Friday and link up with
Kacey
once again.
Here's my last Five for Friday of the summer. There might have been a few imaginary tears shed while writing this post...
1. The alarm clock and I have never been friends. Never have, never will. I have been trying to get into a routine of waking up early and let's just say we definitely are not in the honeymoon phase. This is currently what I look like when my alarm has gone off this week at 8am.
We are shooting for 5am by next week people. It is not going to be pretty (and I don't know how it could get any worse by the looks of this photo)!
2. I returned from vacation this week. What I would give to go back! Just look how peaceful!
I even made it a week without internet! Major victory in my book! However, as soon as I was back, it was back to blog stalking. It took me 4 days to catch up on all the posts I missed but it was time well spent. I wouldn't miss out on reading about your daily adventures!
3. I missed the TPT B2S sale! Major sad faces all around! What was I thinking about that vacation? Did I say what I would give to go back? I meant, what I would give to go back and end it early so I could virtually shop til I drop! I planned a vacation during a huge sale and my alphapalooza giveaway. Smart planning right? I guess my wallet can thank me...until I go bankrupt next time they add new products to the Target Dollar Spot and I buy out the entire section. Speaking of which, have you heard of the website All Things Target?
They have a section specifically all about the
Dollar Spot
where they post pictures of all the items in the spot for the month? As if I don't get enough ideas from all you bloggers, this website gives me my Target fix and lets me know when I need to hop in the car and race to the nearest Target ASAP.
4. There are still a couple of days to enter my bloggy birthday alphapalooza! Click on the image below for a chance to win some fabulous prizes from the end of the alphabet! You definitely don't want to miss this!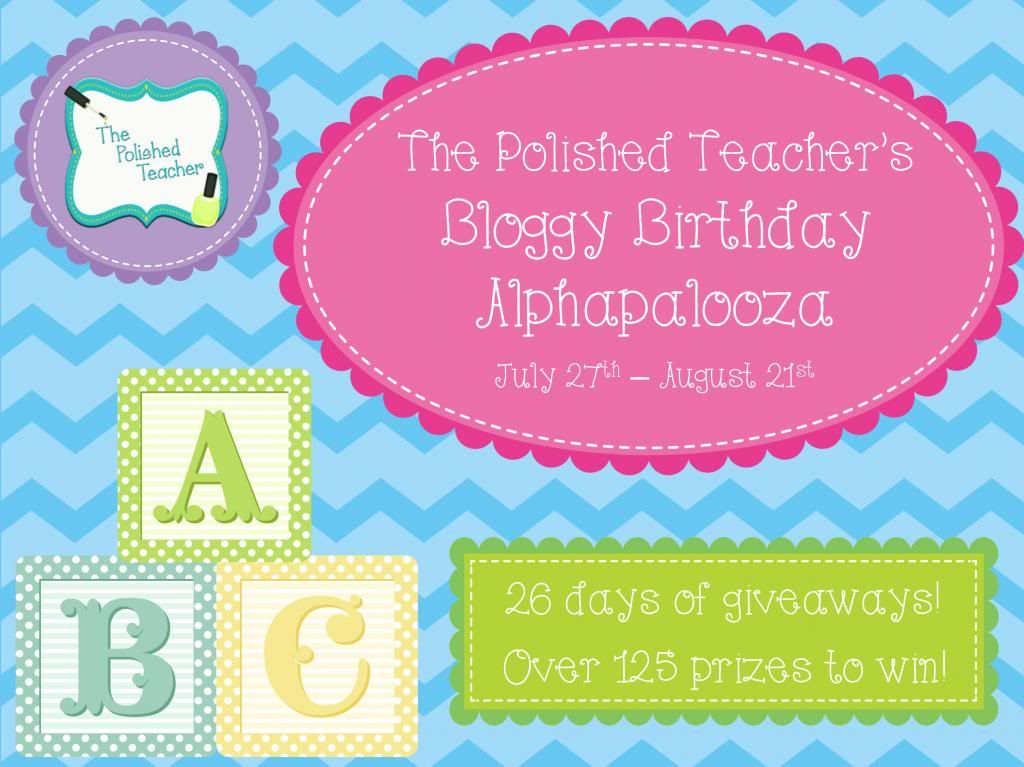 5. I celebrated one year of blogging this past Wednesday. I shared this photo on Instagram and of course I had to share it with my lovely blog followers too since you are the best!
I can't believe how fast time flies! Hopefully this time next year I will have my own classroom! What a way to celebrate my 2 year blogiversary! *fingers crossed*
Well that's it! Next time you hear from me I will be sharing ideas from in the classroom! Boy oh boy it's really happening! Student teaching here I come!