Can you believe that is is August already? Where has the summer gone?
Two of my favorite ladies
Angie
and
Ashley
have this amazing linky party on the 2nd of each month that brings teachers together called #2GetherWeAreBetter.
This month's theme is all things bulletin boards. I don't know about you, but nothing makes me happier than getting back to school bulletin board inspiration! And can you believe over 100 people linked up! That's a lot of amazing inspiration! Thanks to this linky, this year I will create my best bulletin boards yet!
Some of my teacher friends are already back to school: I don't envy you now, but I sure will when you get out in early May! I go back the last week of August which means I have not gotten the chance to set up my classroom yet this year. However, with that being said, I have 3 bulletin board tips from last year to share!
As a first year teacher, I had a love/hate relationship with bulletin boards. I wanted to create cute bulletin boards, but they were way down the list of must-dos for the year. These "wow work" walls were all the rage on Pinterest and I just had to create one. By adding one single clothespin on a thumbtack with some paper below, I was able to create interchangeable bulletin boards in seconds. It made my life a million times easier to just switch out a craftivity each month than having to change bulletin board paper and borders on huge walls. If there is one tip you need to add to your life, this is the one! Work Smarter Not Harder is my work motto!
If you have an ugly green tape covered magnetic chalkboard like me, you can jazz it up in seconds! There was so way I was going to keep that eye sore around that was completely unusable. Just hang some butcher paper and use a magnetic border to hold it in place. It will also add some flair to a magnetic white board without having to deal with creating tape border lines. I literally whipped up a whole wall length bulletin board in seconds! I purchased mine at Lakeshore last year but they are discontinued now. You can find tons of great options on Amazon by searching "magnetic borders". They are very affordable considering you can use them year after year!
I'm going to spare you the tip I wish I learned. Not every beautiful design you see on Pinterest will you be able to re-create and/or have it work for your needs. I saw the ribbon word walls on Pinterest and was so excited to try them out! It was such a pain in the neck to create, but once it was done it was beautiful! I was so proud of the word wall! Enter 30 kindergarteners and the wall was toast! It was an every day struggle to keep the cards sticking on the interactive wall, keep the ribbon hanging up on the wall as they removed cards, and having the ribbon not fray and fall apart in the process. I didn't even take an EOY photo because the wall was a mess and I couldn't wait to take it down. This year, I am definitely going for practicality over gorgeous looks. So as you are browsing through all these amazing ideas, just keep this tip in mind!
Thanks to
Mel
from Graphics from the Pond for the adorable polka dot numbers used in the post!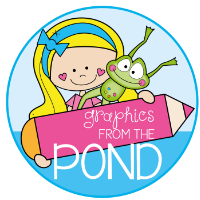 I hope you found these tips useful when it comes to decorating for the year! I can't wait to see what my teacher tribemates have created! Stay tuned next month for the classroom reveal linky party! That is sure to be a good one!