So as always, I am late to the party. This week has been a busy busy one! This post will be very short and sweet. Enjoy!
Thanks for hosting this fabulous party each Month
Farley
! I love the reflection it brings!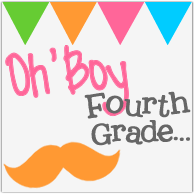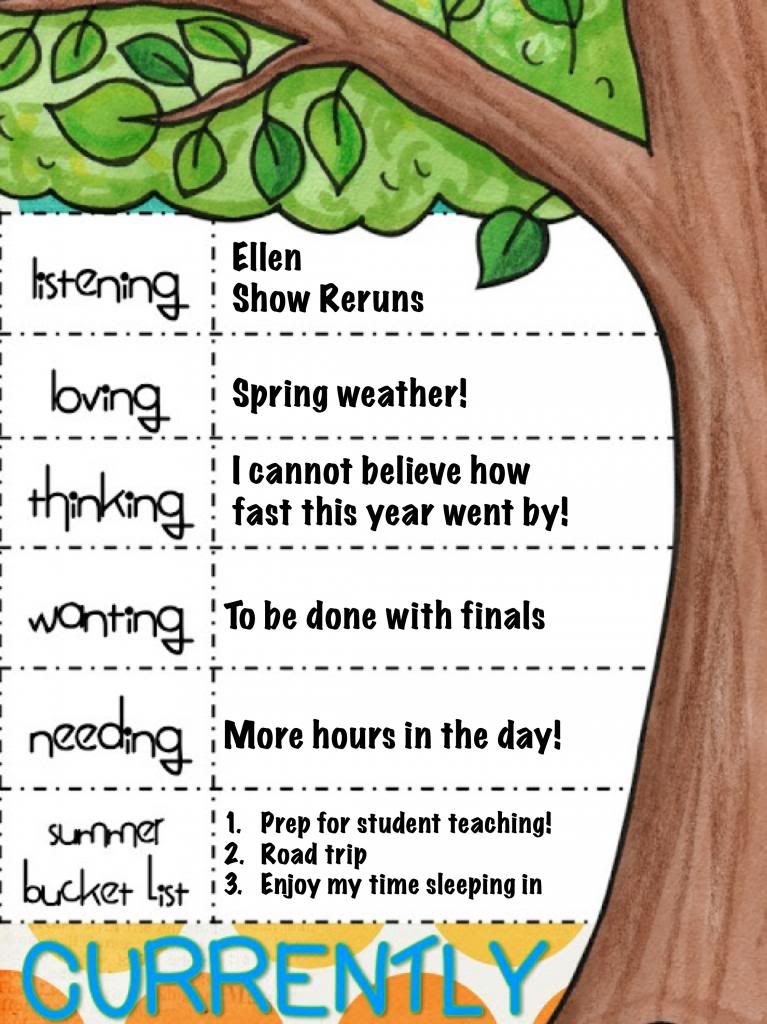 (Click on my currently image to head over and check out everyone else who linked up!)
Listening: Ellen reruns are just the best! She never fails to make me laugh and have a better day all around.
Loving: Spring has finally sprung! The weather has been gorgeous lately! The fact that I no longer need to wear a coat each and every day is wonderful!
Thinking: Since when did I finish my junior year of classes? You blink and another year is over. It's crazy!
Wanting: This next week needs to hurry up and be over. Four finals stand in the way of me getting to work with my cooperating teacher. Bring it on!
Needing: There just aren't enough hours in the day. It seems like when I finally get finished with everything in the day it's time to go to bed. I could use a few more hours just to be able to relax.
Summer Bucket List:
1. Prep for student teaching is a must! I need to organize my books, organize all the random things I bought over this past year, and just get ready to be in the classroom full time!
2. I am hoping to go on a road trip this summer. I am dying to travel and take some great pictures!
3. Student teaching is going to be a big adjustment. I am going to have to be up earlier than ever. This summer I am going to just enjoy my last few weeks of sleeping in!
Here's my Five for Friday for this week! Thanks for hosting again
Kacey
! Maybe one of these weeks this summer I will link up on time again with pictures!
1. This week I met my cooperating teacher for the first time. I just know it's going to be fabulous experience! I can't wait for next year! She has so many amazing ideas! Her classroom is so much fun! And she uses so many products that come from you fabulous bloggers! Can't wait!
2. Yesterday I finished my junior year of classes. These were essentially my last actual classes ever in college. Crazy! Where did the time go? Yikes!
3. This week I had to say good bye to the classroom I have been working in all year. Those little kiddos were so cute. I am going to miss them like crazy! I only saw them for 2 hours a week. I don't even want to think about having to say goodbye to the kiddos in the class I student teach in next fall. I'm going to be a hot mess!
4. Finished my work study job on campus. I have worked in the same office for three years. They have been so helpful and flexible with my education journey. I went to an end of the year BBQ yesterday and they surprised me with a $20 gift card to the to use for lessons for next year. I just love them!
5. Off to go car shopping today. I have been obsessively searching for cars online for a while. Now I'm off to see some in person. We will see how that one goes! Hoping to find something ASAP!
Head on over to link up and share about your week!
Thanks for hosting ladies! Enjoy your weekend! Hope it is very relaxing!