I missed a whole lot of blogging lately! Hopefully my Five for Friday with Kacey from
Doodle Bugs Teaching
will explain why!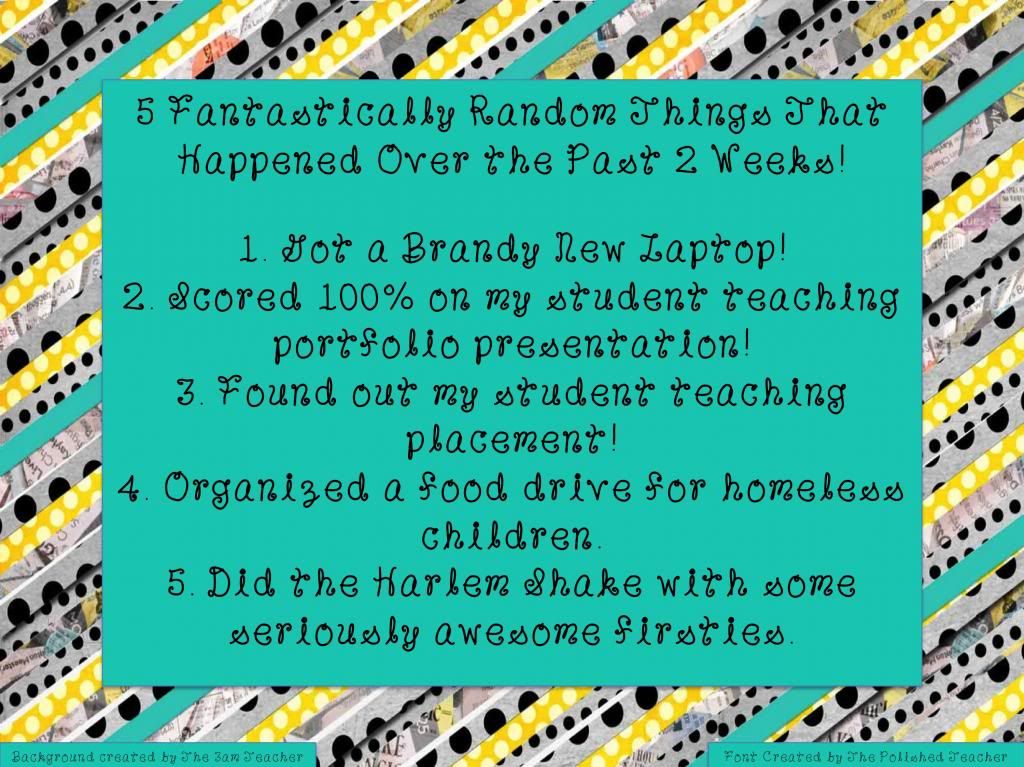 1: In case you have been wondering where I have been, I have been without a computer for the last 2 weeks. My old laptop had some serious problems and just kept breaking all the time. I bought the warranty and thank goodness I did! I got a brand new laptop for free out of it! Now I am back in action and couldn't be happier!
2: I had to complete a portfolio of all the work I have accomplished thus far to prove that I was ready to student teach. I was quite nervous as it was a 20 minute interview but it all worked out well in the end. I aced it and my teacher said it was perfection!
3: Finally, finally, finally! I found out my student teaching placement and I couldn't be happier! I am so excited to get to student teach in kindergarten in the fall! I just know it is going to be fantastic! Stay tuned for some fantastic ideas real soon!
4: As if I wasn't busy enough, I organized a food drive this month. I collected a bunch of different snacks and created snack packs for homeless children. It was great to be able to give back to those children who need it most.
5. The group of firsties I am working with this semester are so much fun! They all have the greatest personalities and are such characters! This past week we did the Harlem Shake together. It was priceless! I am going to be so sad to leave them this week but I am excited to embark on my student teaching journey with my new class!
Well there you have it! I will be back on time this Friday to share a weekly recap with pictures! I promise! Have a great week!