I was absolutely delighted to discover that The Polished Teacher hit 500 followers last night! It was the perfect way to end a stressful day! I cannot thank you all enough for the support that I have received in this blogging community! It means the world to me!
As always, with big milestones comes big celebrations! I always like to give all my followers a chance to partake in the blog celebration that I host for these milestones. There might be a new blogger that I am not familiar with that would love to donate so I always open it up to everyone! This time around, I have gotten more tech savvy and did a Google Form for the process!
If you would like to donate a prize to the giveaway, you can easily do so! By clicking on the picture below, you will be taken to a short form to fill out.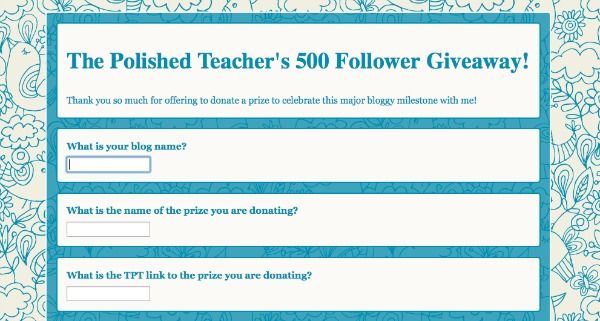 This will answer all the essential questions regarding the donation. I will then send you a follow up e-mail to confirm. Thanks so much in advance for your generosity! I truly appreciate it!
See you soon with some fantastic prizes to win!