Another week of Summer gone. Sad news for people like me trying to savor every last drop of vacation. However, if you are already back in school, you made it through the week! And that deserves a celebration!
I missed the return of the Five for Friday linky last week, but this week I am not missing out on all the fun! Thanks for hosting once again
Kacey
! It is good to keep me accountable! I just love the new button! The rainbow colors are so fun!
1.
I am hosting a linky party for others to reflect upon their student teaching as well as provide advice for a student teacher. I have such an invaluable resource of veteran teachers that I can learn from so why not take every advantage of becoming the best student teacher that I can be! I hope you consider linking up with me! Everyone gets a special thank you gift for linking up! Click the picture below to learn more!
2.
I have been busy prepping to go back to school. Last summer I was all about the Teacher Toolbox. This summer, I have been all about the Copy, File, Grade drawers! I decided to create my own set of drawers modeled after my blog design. I loved the colors and patterns of my blog design so I used the same papers to create the labels. I love how they turned out and I can't wait to use them next month!
3.
I didn't manage to snag a picture during cleaning and I didn't want to empty my entire closet to get back to the bin so you will just have to take my word. I am embarrassed to admit, but I own enough Scentos products to fill a 50 quart storage bin. Markers, daubers, glue, crayons, highlighters, glitter glue, stickers and more! You name it, I have it for every season! I have a serious problem! I might be classified as a Scentos Hoarder.
4.
I have been doing a lot of reading this summer. I just finished The Daily Five and I was so inspired! If you haven't read it yet, you must! I finished it in one day!
I would love to see it in action in the classroom! My favorite part of the book was having a child who would struggle with following the rules model the wrong way for the class so he or she gets the audience but then proves that he or she can follow the rules. I can definitely see that having such a positive impact in the classroom! The Sisters are genius I tell you!
5.
Of course I will be closing with my Bloggy Birthday Alphapalooza! We have surpassed the half way mark! It has been a lot of hard work in setting up the giveaway, but seeing how happy the winners are makes it all worth it! The blogging community has been so generous and I could not have done it without them! I thank you all so much!
Keep reading to win some amazing prizes!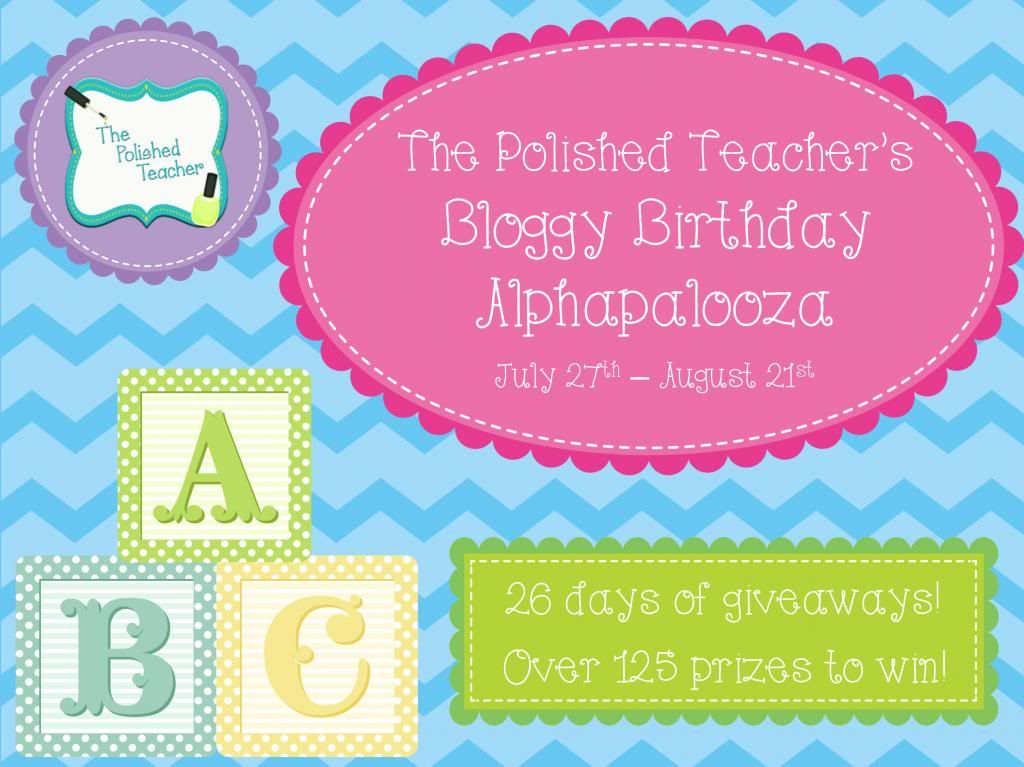 Yesterday's winner was...
Congrats Cathy! I will be contacting you all with your prize information shortly! Expect an e-mail from me soon!

Don't you want to be a lucky winner too? Be sure to enter each day, as many entries as you are allowed! Just one isn't enough! You want all the odds stacked in your favor! Here are the links to the previous days to catch up if you missed any! Trust me, you are going to want to go back and catch up if you missed any! There are HUGE prizes up for grabs!
Today's giveaway is back on scheduled time! Enjoy!
Enter on the Rafflecopter to win these fantastic prizes!
a Rafflecopter giveaway
Come back tomorrow when more prizes are up for grabs!